It goes without saying that first impressions matter, and this is especially true when deciding upon a school for one's children. Open days give prospective pupils and their parents an important insight into a school's facilities, ethos and history, and they are an integral part of the admission process for primary and secondary schools alike.
There's no question that it's well worth investing the time and money in spreading the word about open days, and so we've collated our top open day marketing ideas to help make this process a little easier.
Use traditional marketing to promote your Open Day
Whilst many organisations are spending increasing amounts of their marketing budget online, traditional media still has a place in helping schools reach a wide audience.
Invest in newspaper advertising and pop-up banners in the months leading up to your Open Day, and make a good first impression by disseminating professionally designed flyers and leaflets. We recommend that you use what information you have about your existing students in order to gain a good understanding of your target audience. This will enable you to launch location-specific campaigns that achieve the best results.
Set up an Open Day page on your school's website
No school open days campaign would be complete without an open day landing page. The open day page needs to state the time and date of the event. You should also provide a clear event itinerary, in addition to general information about the school.
Above all else, it is imperative that you include an eye-catching call-to-action (CTA) that encourages prospective students and their parents to apply.
Write blog posts about your Open Day
Once you have decided upon a date for this year's open day, make a blog post announcing the exciting news. It should link through to your open day page, and other blog posts published in the months leading up to the main event should help publicise the day in a similar fashion.
Invest in school Open Day video production
Video is a powerful medium capable of communicating more information, action and authentic emotion than blog posts, flyers and emails could ever hope to achieve. As such, opting for video marketing is a fantastic way to raise awareness of upcoming open days and boost admissions.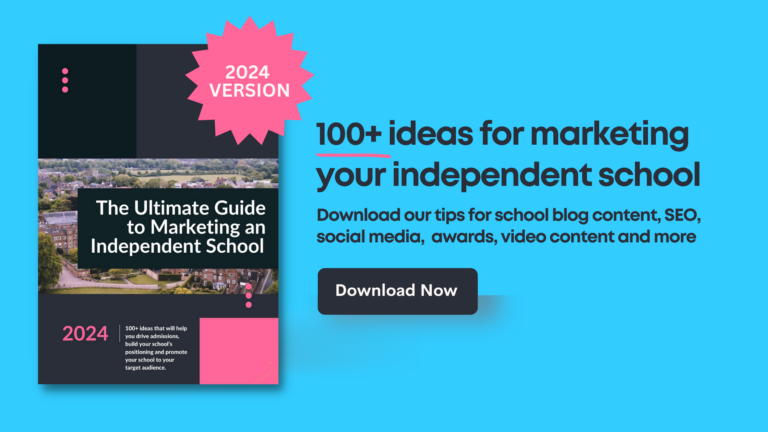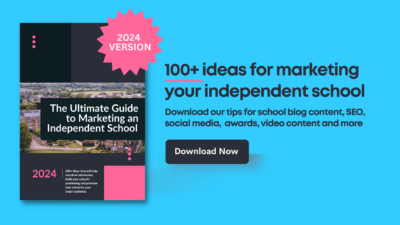 Your open day promotional video is your golden opportunity to capture the essence of life as a pupil at your school. We recommend that you include short interviews with both the students and senior staff in this video. The footage that you show should highlight your school's strongest points. Have the grounds been renovated in recent years? Has the school's science department been recognised for its outstanding facilities? 
You would be well advised to mention your open day in other media too. If you intend on producing a school promotional video, take the opportunity to discuss any upcoming open days that you plan on hosting. We invited Eton College's director of admissions to talk about their open day (see the 02:20 mark) in our promotional video about the school's Orwell Prize. 
[Eton College | Main Video | Promotional School Video] 
Find out more about video marketing for independent schools, and discover how to promote private schools with video.
Use social media to reach a wider audience
Almost everyone is on social media these days, and so using platforms like Facebook, Instagram, Twitter and LinkedIn to raise awareness of your event really is a no-brainer.
Start by creating a public event page on Facebook. This will allow you to keep students and their parents updated on the upcoming event (they'll be notified in the event that the date changes, for example). Facebook allows you to create event ads that are targeted at specific groups using paid promotion.
If you do decide to make a promotional video for your open day, upload it to your school's Facebook page, and consider using Facebook video ads in the months leading up to your open day to expand your reach. Given Facebook's relative popularity amongst older users, this will likely prove a wise investment. We recommend targeting the demographic profiles of both your students and their parents, as well as retargeting visitors to your school's website. Find out more with our guide to Facebook video ads best practices.
If you'd like to take to Twitter to market your open day, you can't go too far wrong with tweets bearing hashtags in the #[InsertSchoolNameHere]OpenDay format. Again, consider increasing your reach across the Twittersphere by promoting your tweets and Twitter videos.
Learn more about how schools can use digital advertising and how to promote a private school on social media.
Promote your Open Day via email marketing
Looking for a quick win? Reach out to those who have already expressed interest in your school with emails about upcoming open days. Prompt your recipients to register for an open day with a CTA that links through to your site, and increase engagement by embedding promotional videos in your emails.
It's a good idea to grow your mailing list by collecting contact details from visitors to your school's website. One way to go about this is to ask parents who would like a hard copy prospectus to submit their names and email addresses.
Make live broadcasts during the event itself
Marketing the open day doesn't have to end when the parents come to visit your school, children in tow. You can promote your event even whilst it is in progress by live-streaming footage of the headmaster's speech on the school website and/or via a video streaming service, such as YouTube and Vimeo.
It's time to start marketing your Open Day!
There's no denying that open days involve a fair amount of preparation. We hope that this has given you a few ideas that will help get the ball rolling ahead of the big day.
If you'd like to make a promotional video for your open day, you've come to the right place. Learn more about what to include in a promotional video for your school, and discover how we can help you with your school open day video production. Take a look at our work for some of the UK's leading independent schools by viewing our best school promotional videos.
Take a look at our schools blog and all of our latest work on our YouTube channel for more ideas and inspiration
Small Films is a London-based video production company. If you're thinking about creating a promotional school video, please do not hesitate to contact us. Our experienced team have produced films for many of the UK's top independent schools, and they'd love to hear from you.