A private school is like any other business when it comes to marketing. A strategic and multi-levelled marketing plan is required in order to drive more customers (or students in your case). Unfortunately, it's not possible in this competitive day and age to expect students to just come to you – no matter how good the standards are at your school. 
At Small Films, the school sector is our speciality, and we've created innovative promotional videos for iconic institutions such as Eton College and St Margaret's Preparatory School – so marketing for independent schools is something we know a great deal about.
From video production to blogging and beyond, this article will share five useful and creative tips for your private school marketing strategy, so that you can stay ahead of the competition and allow what sets your school and its ethos apart to shine. 
1. SEO  your school website
Let's start with SEO. 
Search engine optimisation (SEO) can be intimidating, and it covers a broad spectrum of areas – but we're going to focus on just a few key aspects of SEO for marketing a private school.
Use local keywords to appeal to your target audience and those searching online for an independent school in your area. It's not about stuffing tons of keywords into your site but using them in a natural way to give yourself the best chance of appearing in search rankings for those local Googlers that really matter.  Consider local towns, cities and your county when determining what prospective parents might search for, ie. 'private schools in Hampshire' or 'independent schools in Manchester'. 
Start to type into the Google search bar, and Google will autofill in top searches. This is a great way to understand what terms to target when compiling your keyword research.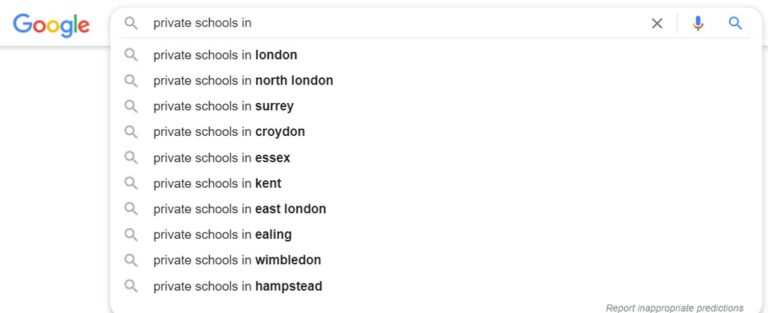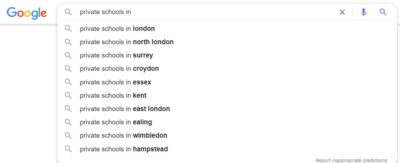 You can also make sure of online directories such as Google My Business to help you get found. 
>> We talk more in-depth about local SEO for private schools in our Marketing an Independent School Ultimate Guide (2022).
A big aspect of search engine optimisation is also having regularly updated, quality content on your site. You can achieve this by having a blog, which brings us to our next point…

2. Create a school blog
Consider creating a school blog if you haven't already. 
This is a great way to keep your website fresh and demonstrate to both current and prospective parents what your school offers to students.
Put yourself in the parents' shoes – if you're comparing two private schools online and one has a regularly updated blog with news, insights and engaging content, and one doesn't – which is going to be more compelling?
We don't have to tell you that picking a school is a huge decision for parents, and they'll want to find out as much as possible before they invest. – a blog is the perfect platform on which to share this information.
>> Looking for a video production company to support with a promotional school video. The Small Films team would love to help. Just drop us a line
3. Share content from the student's point of view
What's more important for parents than knowing what kind of experience their child will have at your school?
Private schools often default to creating content where the teachers are the narrative voice. While we think these kinds of videos are important to make, we also urge you to include content from the student's viewpoint in your independent school marketing strategy. 
Examples include student story videos, day in the life videos and blogs and student Q&As (these could potentially be done via live video on social media, or in person at open days).
It's essential to have variety when marketing a private school and to create content that will appeal, answer questions and entertain in different ways.
>> Read more on the types of content schools should be making.
4. Use school promotional videos
School promotion videos are a fantastic tool that we highly recommended all private schools to take advantage of. They're an effective way to share your school story, and give a further insight into the day to day life at your school. 
Wyzowl reported that "86% of businesses use video as a marketing tool", and "94% of marketers agree that videos have helped increase user understanding of their products or service".
The stats make it abundantly clear that you're going to lag behind the competition if you're not incorporating video into your marketing plan.
Watch the Small Films video we created for Dumpton School
>> You can find out more about how to make a school promotional video in this blog.
5. Create videos across your marketing channels
The possibilities for school promotional videos are endless, and you can harness their potential across all your marketing platforms. 
For example, your website homepage can automatically play your explainer video, which will give parents and students a comprehensive overview of what it's like to enrol at your school. 
Watch our promotional school video for Eton College
Then you can use shorter, snappier videos for social media. These may be a mix of professional promotional videos and more casual, off-the-cuff videos that play into current social media trends. Don't be afraid to show a slightly less filtered version of your school, especially on apps like TikTok.
Student story videos could be played in the background at in-person open days, or linked on your blog to complement written content.
There are so many ways your school can tell its story through video, and ensure your independent school marketing strategy is effective across all your platforms. 
Keep in mind that each marketing platform likes a slightly different type of content, including styles of video – this is something we can advise you on. 
>> Read more about how private schools can use video marketing to their advantage. 
Innovative marketing ideas for schools 
Independent schools should be using strategic and innovative marketing techniques to demonstrate what life is like for their students and tell their stories effectively. 
We hope this blog has given you a taste of what marketing a private school can include, and provided you with plenty of inspiration. Remember that an independent school is like any other business when it comes to marketing, and fresh methods and content are needed to keep appealing to new students.
Small Films is an educational video production company. We have created promotional videos for some of the top schools including Eton College, Blundell's and St Margaret's Preparatory. If you'd like to discuss a video for your school, then do get in touch.