As the school marketplace becomes more competitive and parents are faced with more choices than ever, it might feel like you have a mountain to climb when it comes to marketing your independent school.  You may be looking to increase school admissions, or to change the perception of your school to one which is student wellbeing focused, or you may have recently opened exceptional sports facilities that you want to shout about.  Whatever your objective, this ultimate guide is packed full of our top tips and tricks to help you in marketing an independent school.  
LOCAL SEO FOR SCHOOLS
Local SEO is a way of ranking your school on Google when someone performs a location-based search. For instance, a prospective parent may type 'private schools near me' or 'independent schools in Berkshire', into Google and if they see your school listed in the local map results they are more likely to click on it.  Local SEO can be one of the most effective ways of targeting parents in the local area who are looking for a school for their child. There are many ways you can implement local SEO for your school, so I'll break them down into a handy list for you below.

List your Independent School on Local Directories
One of the first steps and also one of the easiest to implement is ensuring your school is listed on local directories. These will be listings such as Google My Business and Bing Places but will also be specific location-based directories such as local news sites like BerkshireLive or Manchester Evening News.  Just search for 'directory + your area' to find places to find appropriate listings.
Earn Online Reviews
Online reviews matter a lot when it comes to location-based searches. Businesses that are well thought of are pushed higher in the search results by Google, so achieving a high average rating for your school can make all the difference when it comes to having a prospective parent want to click on your website. Make sure you always play by the book as Google will penalise reviews that they think have been bought or given by staff.  Add a link on your school marketing emails to 'add a review' to encourage great comments to be left on your Google My Business page. In the below example you can see that users would more likely click on Marlborough College over Stonar or Dauntseys due to its glowing reviews. 

Optimise your School Website Pages with Local Keywords
Before optimising your site, you will need to perform some keyword research to discover which keywords have the highest search volume. Tools such as Ubersuggest, SEMrush and Ahrefs all offer free trials to help you perform your school keyword research.  Remember to think like the searcher when it comes to location.  For instance the search term 'private school Wiltshire' has 210 people searching for it a month, whereas 'private school Pewsey' has zero. Therefore you would want to optimise for the term Wiltshire to take advantage of the higher search volume. Bring these keywords into pages on your website (without being spammy) to help your site rank higher on Google when a user searches them.  

Add the Location of your Independent School to your Title Tags
Title tags are very important when it comes to SEO as they signal to Google what search terms your website should rank for. By adding in the location of your school to your title tag it can help your site rank when someone performs a location-based search. Use the keyword research that you performed for the web pages to help you decide the right term for your title tags.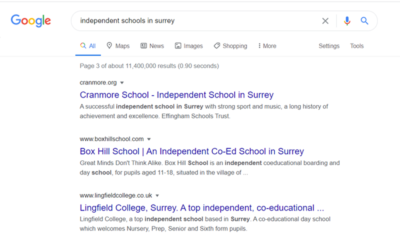 SCHOOL VIDEO PRODUCTION
Create Promotional School Videos
Promotional school videos can be one of the most powerful tools to help you achieve a variety of objectives including increasing school admissions, driving awareness of your school or changing the perception of your school. Promotional school videos can also come in a variety of formats to help you tell your story, this may include departmental films that focus on a specific area that you want to highlight such as your sports or theatre facilities or you may want to tell your story from the perspective of a student. Below are some of the types of promotional school videos you can create to help you with marketing a school.
Types of Promotional School Videos
– School website videos
– School department highlight videos
– Student's story videos
– Head's welcome videos
– School event videos, i.e school plays, dances, celebrations etc
– Alumni videos
– Open Day videos
– Aerial videos for a birds-eye view of your school
– Web advert school videos

SOCIAL MEDIA FOR MARKETING AN INDEPENDENT SCHOOL
With roughly one billion monthly users, Instagram is a social media channel that every school should be on.  This highly curated platform when used strategically can put your school's content right in front of your target audience, by tapping into location opportunities and hashtags.  Create a content strategy that encompasses key school dates which may include World Book Day, open days and Christmas carols etc.   Hashtags are one of the most important elements when it comes to Instagram and marketing an independent school. You should be using approximately 15-20 per post. Assess what types of hashtags prospective parents may follow such as #devon or #independentschools and add these to the caption when posting.
Create a Facebook Business Page for your School
A Facebook profile for your school is another way to help parents discover your school and also interact with you online. Create a full profile that is populated with content and imagery and use the channel to update followers about key school events, open days, successes and social activities. When promoting key days across the year such as open days then design eye-catching Facebook banner headers, create Facebook Events and post key information on your timeline. 
Use a Promotional School Video on your Facebook Header
When a user lands on your Facebook page, the header will be the first thing they see, so it's, therefore, a great place to hold a showcase video for your school.  Use a video that highlights all the best aspects of your school without the need for sound. 
Facebook and Instagram Ads for Schools
Facebook and Instagram ads can be a great way to deliver your message in a highly targeted way. With filtering options that allow you to focus your demographic including age, gender, behaviour and interests, these platforms ensure that your ads are only being shown to those who would find the content relevant.  Make sure that you have a clear idea of who your target audience is and what sort of compelling content would get them to engage with your ad. These style of adverts will have a cost associated every time someone clicks on it, so you always want the page you direct them to grab their attention and lead them to perform an action (download a school prospectus, sign up to an open day or sign up to your newsletter). You don't want to spend precious £s on having people click on your advert and then jump straight off your website.
Contact us to find out how Small Films can help you with your social media ads 
Create a School YouTube or Vimeo Page for your promotional school videos
Not sure where to put your sixth form Macbeth school play video? YouTube and Vimeo pages are brilliant channels to give a more in-depth view into life at your school. You can go behind the scenes of your art department or give a deeper insight into how you approach wellbeing and pastoral care or even share your sixth form awards ceremony so parents can watch the replay from the comfort of their own homes. Every video uploaded should tell a story and have a purpose. Aim to segment your videos into categories to help users easily find the style of video they're looking for, i.e sports department, celebratory events and co-curricular.
If you would like Small Films support to create a promotional school video then do get in touch
SCHOOL WEBSITE DESIGN
Design a Website That Clearly Shows the Benefits of Your School
A clear and well-designed website is the most important factor in marketing an independent school. A well-performing school website is one that helps build trust with your audience, guides your visitors to take particular actions, is full of valuable and useful content and is clear and easy to use. Assess the content that a prospective or current parent may want to know and check that your website answers it.  Are key pieces of information such as fees and admissions information easy to find? Does the content clearly show the ethos of the school? Make sure you build in trust signals throughout – this can be as simple as ensuring blog content is regular and updated. If you have won awards such as The Independent School or Best School Awards then shout about this or if you have video testimonials from current students then include these on your site.

School Website Checklist
– School Term Dates
– Head Teacher's Welcome Video
– About the School
– Open Day Information
– Registration Timelines
– Pastoral Care
– School Life Video
– School Fees
– School History
– School Prospectus (or ability to have the prospectus posted)
– Scholarship and Bursary Information
– Co-curricular activities
– Admissions Procedure
– Departmental Information
– Directions to the School
– Contact Information
– Blogs and News
– Links to Social Media
Start a School Blog
Placing emphasis on your school blog content is a great way to showcase to prospective parents the best highlights of your school. Think of it as a window into your school where you can recap key school events or give a glimpse into a typical day of a student. Blogs also make great content to share in newsletters or on your social media channels.

Independent School Blog Ideas
– News
– Highlights of key events, i.e school plays, celebrations, awards etc
– Interviews with Department Heads
– A glimpse inside a new building
– A day in the life of a student
– What to expect when starting at your school
– School admission tips
– Student guest posts
Consider the questions that prospective parents may have and write blog content that answers these topics such as
– How to prepare your child for boarding school
– How to apply for a bursary or scholarship
– Top 10 ways to help your children complete their homework
– Creative ways to homeschool during lockdowns


ENTER INDEPENDENT SCHOOL AWARDS
Not only can winning awards be a great way to boost staff morale, they are also an excellent way to showcase to prospective parents that their child will receive an outstanding education at your school.  A shortlist can be a great bit of PR and excellent content to broadcast on your social media channels and if you go on to win the award make sure to proudly place the winning logo front and centre on your website. Below are some of the key independent school awards to enter across the year to help you market an independent school. 

Enter Best School Lists
By listing in independent school directories you can leverage when a parent performs the search on Google of 'Best independent schools in the UK'. Some of these lists may be populated by league tables whilst others may be by area, i.e top independent schools in London. Contact the owner of the website and ask if there is an opportunity for your school to be listed. 
Independent School Directory List
If you are looking for a school video production company and digital marketing agency that can help you in marketing an independent school, then don't hesitate to get in touch – we'd love to help.